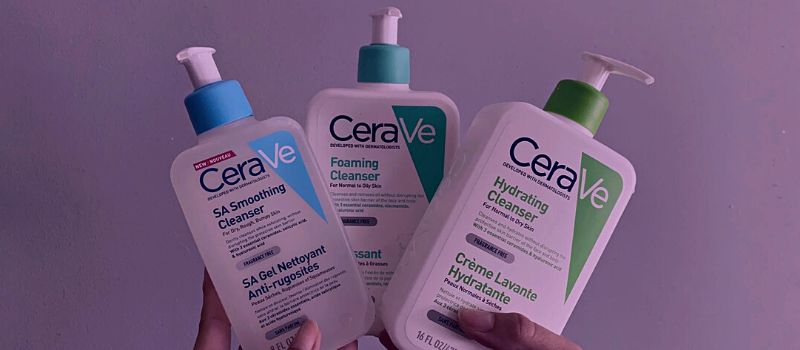 3 Best CeraVe Cleansers Reviewed
CeraVe is definitely one of those brands that can't seem to get it wrong, and they have many amazing products that target various skin concerns, from dryness, dullness, and dehydration, to aging and acne.
Their products are loved and recommended by dermatologists all around the globe, and they base all their products on their proprietary three essential ceramides, hyaluronic acid, and niacinamide.
So, in this article, I am going to talk about their cleansers, particularly their three most popular cleansers formulated for different skin types. I'll be reviewing:
The CeraVe Foaming Cleanser
The CeraVe Hydrating Cleanser
The CeraVe Renewing SA Cleanser
Having tried all three of them in various stages of my acne battles, I will describe my experience using them and give my opinion on who will benefit from each CeraVe cleanser the most.
Therefore, without any further ado, let's jump into my review of the three best CeraVe Cleansers, starting with the one my skin loves the most.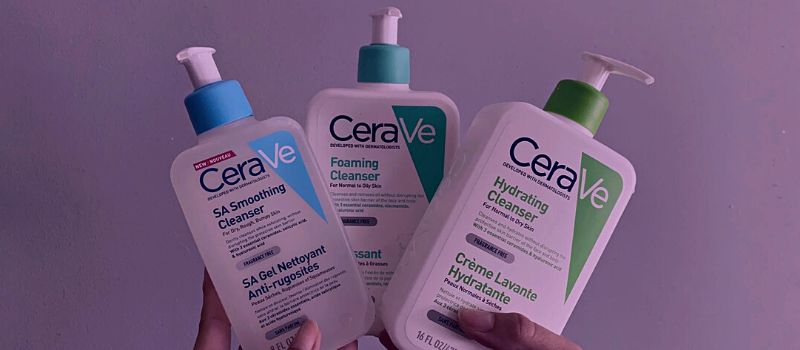 NB: What if I told you I can show you how to never have acne again? If you have acne and want it gone, please read this message.
CeraVe – Foaming Cleanser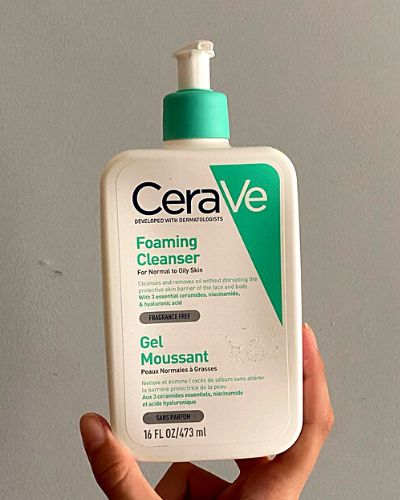 The CeraVe Foaming Cleanser is one of the most popular products in the skincare market, and for a good reason.
It's a simple, no-fuss cleanser that does an excellent job of cleansing the skin and removing daily impurities that linger on the surface due to pollution, makeup, etc.
It's also super affordable, and different sizes usually range between $15 and $18.
Best for
The Foaming Cleanser is targeted toward oily and acne-prone skin types who are looking for a gentle yet efficient product that will remove excess oil and impurities without stripping the skin or making it feel tight and stretched.
Like all CeraVe cleansers, the Foaming Cleanser contains the brand's three essential ceramides that work to strengthen the skin barrier, alongside hydrating hyaluronic acid, and niacinamide, which is another excellent ingredient with many skin benefits, including brightening the skin, balancing oil production, and reducing inflammation.
Consistency & Scent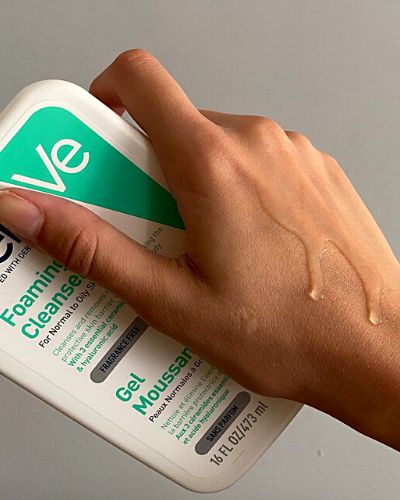 The Foaming Cleanser has the texture of a thick gel that foams up nicely when in contact with water and doesn't have any scent at all, meaning it's suitable for sensitive, reactive, and allergy-prone skin.
Performance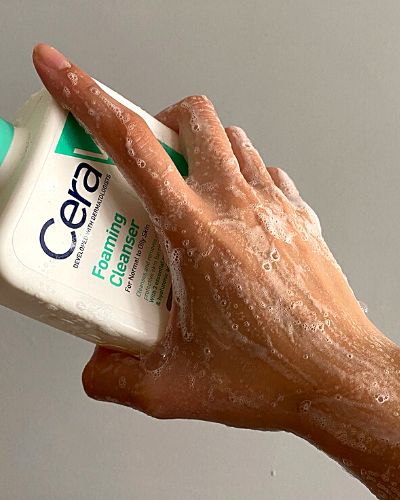 As someone with excessively oily and acne-prone skin, the Foaming Cleanser was a product I immediately liked as soon as I tried it for the first time.
It's very gentle to the point where I've used it during my retinoid purge while my skin was raw and stripped, and it has never caused a reaction, irritation, or burning.
I like that it foams up incredibly well when in contact with water, so you usually won't even need a full pump for the entire face and neck.
I use half a pump for my face, neck, and chest, which is more than enough to make my skin squeaky (not in a dehydrating way) clean.
However, I have noticed that if I use a lot, for example, a full pump on my face only, it will dry out my skin, so avoid doing that and settle on a happy medium instead.
I also enjoy using the Foaming Cleanser as a body wash, which is something I recommend doing if you, like me, are dealing with acne on the back and bum, as it comes in a huge bottle that lasts for a long time, and doesn't contain fragrance, which is something that I've noticed irritates my body acne, especially when I'm using scented body lotions.
All in all, it's a great cleanser for the face and body and works well for acne-prone skin. I highly recommend it!
Foaming Cleanser Pros:
Gentle and non-stripping.
Foams up well, and very little is needed to cover the entire face, neck, and chest.
Can be used on the face and body.
Great for acne-prone skin.
Non-irritating and free of fragrance and alcohol.
Foaming Cleanser Cons:
It can dry out the skin if you use a lot, so use less product and lather it between your hands before applying it to your face.
CeraVe – Hydrating Cleanser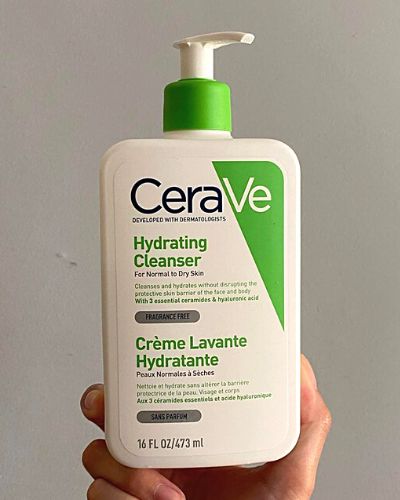 The CeraVe Hydrating Cleanser is another one of their OG products that has been around for years and is still one of the most popular items in their lineup.
It's a gentle, non-foaming, fragrance-free, and non-irritating cleanser that cleanses and removes makeup without stripping the skin or leaving it feeling dry and tight.
Additionally, and like all CeraVe products, it comes in a large bottle and varies in price between $15 and $18, depending on the size.
Best for
The Hydrating Cleanser is a non-foaming cleanser, making it most suitable for dry, sensitive, and normal skin types who want a hydrating and gentle product that will cleanse the skin without stripping it.
The Hydrating Cleanser contains three essential ceramides, as well as other fatty ingredients such as cetyl alcohol and cholesterol, which is an essential component in our natural skin oil that helps strengthen and protect the skin barrier and keep the skin moisturized.
Consistency & Scent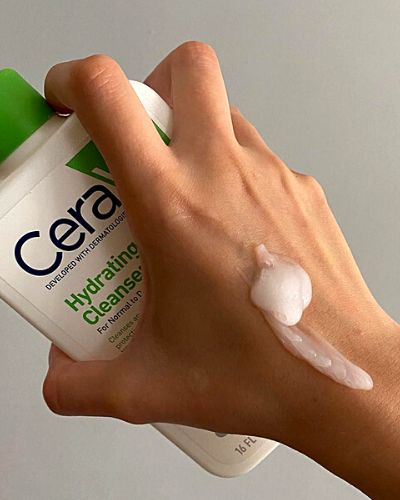 The Hydrating cleanser has a creamy consistency and doesn't lather when in contact with water.
Instead, it turns into a milky liquid, making it more beneficial for those with normal to dry skin that can't use foaming cleansers due to their naturally drying properties.
Performance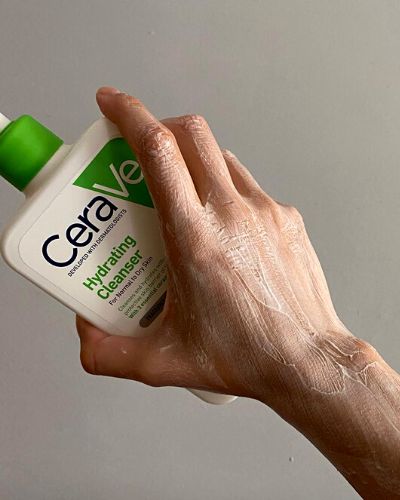 As someone with oily and acne-prone skin, I didn't find the Hydrating Cleanser all that beneficial for my skin type and skin concerns.
However, I sometimes use it as a first cleanse to dissolve my makeup and prep my skin for a second and more thorough cleanse.
The cleanser helps remove makeup and leaves my skin clean, hydrated, and supple; however, if you are someone with acne-prone skin, be mindful of ingredients such as fatty alcohols and sterols as these can be comedogenic in some instances and can clog your pores and cause you to break out.
This is the only reason why I personally didn't enjoy the Hydrating Cleanser, and even though it's a great product, it doesn't give my skin what it needs.
My husband, on the other hand, who has normal to dry skin absolutely loves this cleanser and uses it religiously every evening before applying the rest of his skincare routine.
Hydrating Cleanser Pros:
Gentle and non-foaming.
Suitable for normal to dry skin.
Non-irritating and free of fragrance and drying alcohols.
Leaves the skin hydrated and soft.
Great for dissolving makeup.
Hydrating Cleanser Cons:
Not the best option for oily and acne-prone skin as some ingredients in the cleanser can clog the pores and cause breakouts.
CeraVe – Renewing SA Cleanser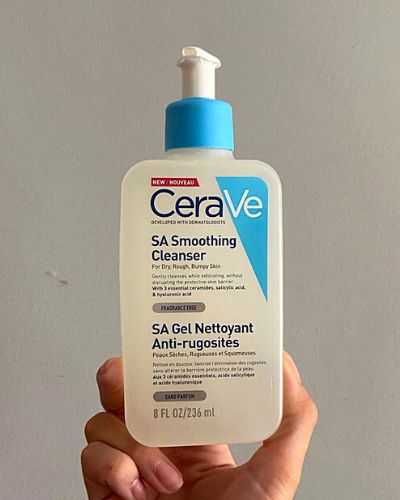 The CeraVe Renewing SA Cleanser is one of their newer products that caused quite a divisive stir on social media platforms such as TikTok, where people had many different opinions when it first launched.
While some swore by its magic-like action that cleared their skin after a couple of uses, others complained that it dried their skin and made them break out even more.
Although this can be explained by considering the fact that the Renewing SA Cleanser contains 0.5% salicylic acid, an exfoliating ingredient that's known for its potential to cause a purge when you first start using it.
A purge occurs when you introduce an ingredient that increases cellular turnover and causes the gunk inside the pores that was supposed to turn into a pimple to come out to the surface sooner and around the same time.
This is why during a purge, you will notice many new pimples popping up on the skin's surface at the same time, instead of appearing as one or two pimples at different times, which can make this experience scary, especially if you don't know what's happening.
However, the most important thing during a purge is to stick it out and adjust your skincare routine to focus on maintaining a healthy skin barrier so that your skin can deal with purge-induced inflammation better.
Best for
The Renewing SA Cleanser is targeted toward oily and acne-prone skin and can also be used in body areas affected by acne or by a condition known as keratosis pilaris, where the hair follicles are plugged with dead skin cells, leading to a rough, bumpy texture.
This cleanser contains both CeraVe's proprietary ceramides as well as exfoliating and hydrating ingredients that help keep the skin's surface smooth while also helping to unclog the pores and prevent future breakouts.
Consistency & Scent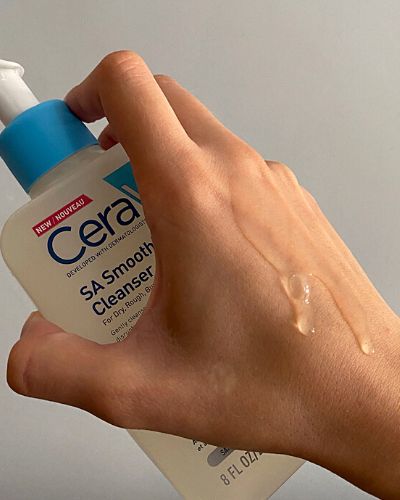 The Renewing SA Cleanser has a gel consistency, although it's slightly more liquid than the Foaming Cleanser.
Additionally, and like all CeraVe products, the Renewing SA Cleanser is fragrance-free and has no scent.
Performance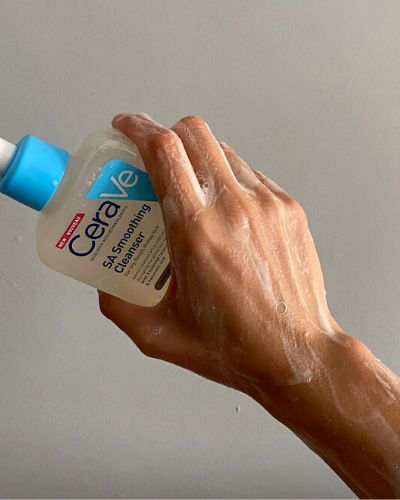 Where do I begin with this one?
I had the chance to try the Renewing SA Cleanser long after my skin had already settled into my new skincare routine and stopped purging from the retinoid I introduced it to.
And although I was a little reluctant to try it out at first, simply because I already had a routine that worked for me and didn't really know where to place it, I still decided to give it a go because so many people on Twitter had asked for my opinion on it.
And, as expected, the dreaded purge began only days after I introduced it into my routine. I started getting huge cysts along my jawline, cheeks, and temples, as well as small pustular pimples on my forehead.
To be honest, I was a little taken aback by this because I didn't expect it to get that bad, but it did, and it seemed like it wasn't going to stop anytime soon.
Therefore, I didn't really feel like going through all that again, especially since my previous routine was working great for me, so I decided to stop using it, and my skin pretty much got back to normal with most of the cysts being gone within 2-3 weeks after doing so.
It's important to remember that just because you went through a purge with previous products and your skin is looking and feeling great; it doesn't mean that you won't experience a purge again if you decide to introduce a new purge-inducing product in your skincare routine.
Not all products are made the same, nor do they use the same ingredients, so the salicylic acid that's present in, for example, Paula's Choice products, isn't the same as the one present in CeraVe products.
Besides that, you also have to consider that products are formulated differently and contain a blend of different supporting ingredients, so just because you've used the Paula's Choice salicylic acid doesn't mean your skin will take to the CeraVe salicylic acid as easily as it did with a product that worked for you.
This is why I always advise my clients to stick to a routine that works for them and not try to cut corners, thinking their skin will heal faster if they introduce a new active into their skincare routine.
If your skincare routine is working and your skin is showing signs of clearing up and becoming healthier, full results are bound to come sooner or later. So there's really no need to rush and put your skin through the stress of a purge just to try to get there faster.
So, with all that said, I don't personally think the Renewing SA Cleanser is a great product, and while it may work for some, it's definitely not something to experiment with, especially if you already have a skincare routine that works for you.
I have since continued using the Renewing SA Cleanser as a shower gel, and the skin on my body seems to like it far better than the skin on my face does, so I'm going to go through the bottle I have and probably won't repurchase it.
Renewing SA Cleanser Pros:
Free of fragrance and drying alcohol.
Contains barrier-repairing ceramides.
Renewing SA Cleanser Cons:
Can be drying and irritating.
Causes purging in the beginning.
My name is Simone and I am a certified skin specialist. I created this website to teach my readers how to take great care of their skin and I also like to occasionally share my honest opinions on skincare products I've tried. You can learn more about me here.
The Acne Solution: Your Ultimate Guide To Flawless Complexion
An extensive, no-nonsense course showing you how to never have acne again, from a licensed Esthetician specializing in oily/acne-prone skin.