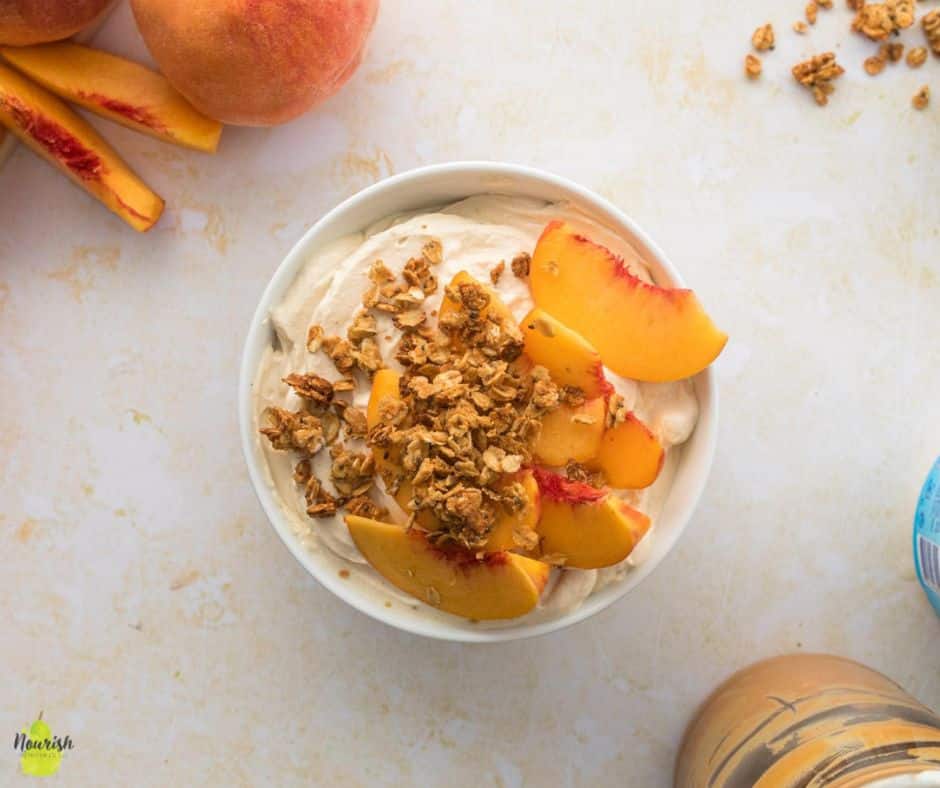 Peanut Butter Yogurt and Dip
Make this 3 ingredient peanut butter yogurt bowl for a delicious high-protein breakfast. It's great with granola or used as a snack dip for apples and graham crackers.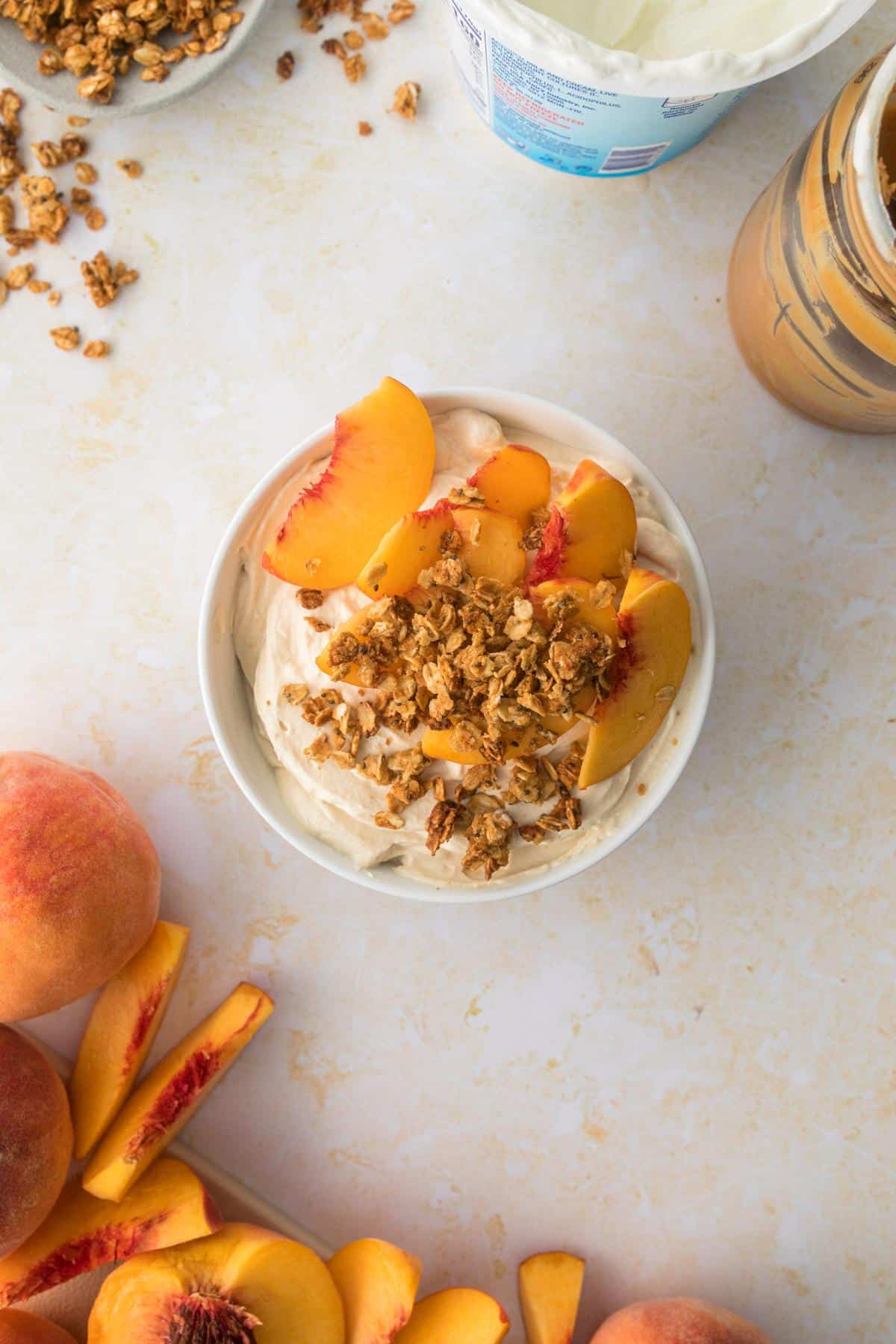 [This recipe was originally posted in September 2018. It has been updated with new photos, cooking instructions, expert tips, FAQ, related recipes, video and ways to repurpose/use up ingredients]
How this yogurt with peanut butter will make your life easier
Plain Greek yogurt is a pantry (well fridge) staple at my house. Instead of buying different flavored yogurts, one tub can be enjoyed in many healthy breakfast recipes, like this yogurt with peanut butter and even substitute sour cream in recipes.
The flavor combinations are endless when you're using plain yogurt, use it in:
What makes this Greek yogurt bowl so good?
In this yogurt bowl, you'll find plain Greek yogurt, peanut butter, and honey.
How to make peanut butter yogurt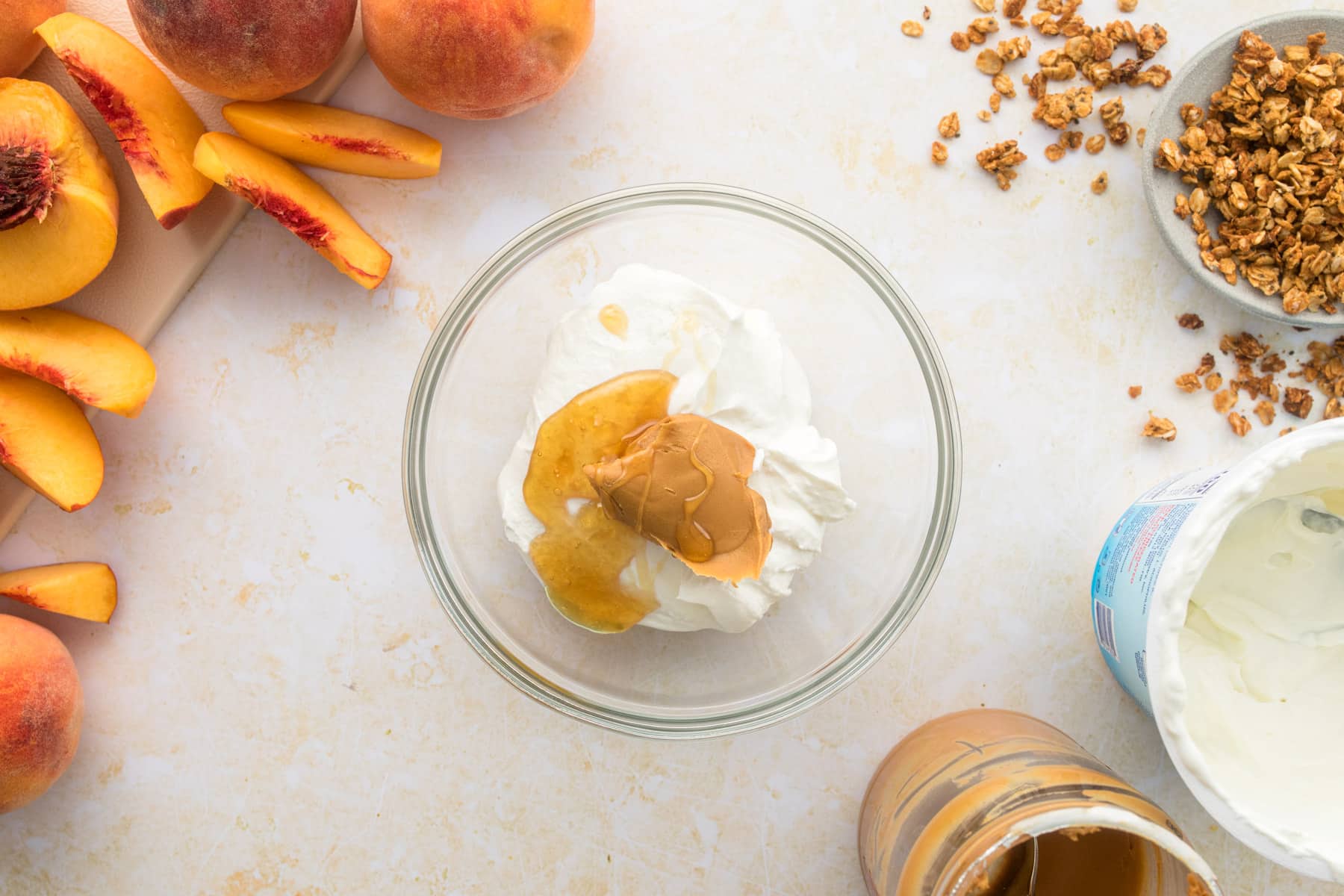 Start making your yogurt bowl recipe by adding plain Greek yogurt, peanut butter of choice, and honey to a mixing bowl.
Stir yogurt until well combined. Top your yogurt bowl with fresh fruit and granola, or whatever toppings you like. Enjoy immediately or store yogurt without toppings in an airtight container for up to a week, or so.
How to serve as a yogurt dip
Make some peanut butter yogurt dip Instead of topping your yogurt with granola and fruit. Prepare some apple slices, banana slices, graham crackers, etc to dip into your yogurt dip.
Substitutions/Tips
Use whatever kind of peanut butter you have- creamy peanut butter, crunchy peanut butter, natural peanut butter, homemade, whatever you like! You could use powdered peanut butter too, I just haven't tested it, I bet the texture would be different.
Swap the peanut butter for another kind of nut butter, this Honey Almond Butter is a great option.
I learned about this easy peanut butter dip while working as a clinical dietitian at a large hospital in Utah. They'd make this dip in the kitchen and serve with apples to the women in the maternity ward. I immediately fell for this dip.
Other great add-ins/toppings: berries, peach slices, apple slices, granola, etc. You can also swap the honey for maple syrup.
FAQ
Is peanut butter good with yogurt?
Peanut butter is very good with most flavors of yogurt, especially plain yogurt, like this peanut butter yogurt. It adds flavor to plain yogurt, it also adds satiating fat and protein.
What to add to plain yogurt to make it taste better?
Peanut butter and honey/maple syrup are great pantry ingredients to add to yogurt. Fresh or frozen fruit are great with plain yogurt as well. Enjoy it in a yogurt bowl or smoothie, or even a dip.
How can I repurpose?
Serve your yogurt as a dip with sliced apple, banana, and graham crackers
Add milk and frozen fruit (frozen berries, peaches, etc) and blend into a peanut butter yogurt smoothie.
What can I make with leftover ingredients?
Did you make this peanut butter yogurt? Leave me a comment & rating to share how it turned out!
Print
Pin
Peanut Butter Yogurt
Make this 3 ingredient peanut butter yogurt bowl for a delicious high-protein breakfast. It's great with granola or used as a snack dip for apples and graham crackers.
Equipment
Measuring Cups

Measuring Spoons

small mixing bowl
Ingredients
2

tablespoons

favorite peanut butter

1

cup

plain Greek yogurt

1-2

teaspoons

honey

or maple syrup
Instructions
Add 2 Tablespoons of peanut butter and 1-2 teaspoons of honey to 1 cup plain Greek yogurt. Stir together. 

Top with granola, fresh fruit or as a dip with apple slices and graham crackers.
Notes
Use your favorite peanut butter or other nut butter.
Top with granola and berries, peaches, apple, or banana.
Serve with apple slices, banana slices, and graham crackers for a snack.
Blend into a smoothie for a different take on a yogurt bowl.
Want to get more single serving recipes delivered to your inbox? Click here to download my Single Serving Cookbook.
Recipes are great, but you'll need a simple 3 step process to create a meal plan that make cooking easy & helps you stop wasting food. Check out this expertly developed meal planning guide to get started.