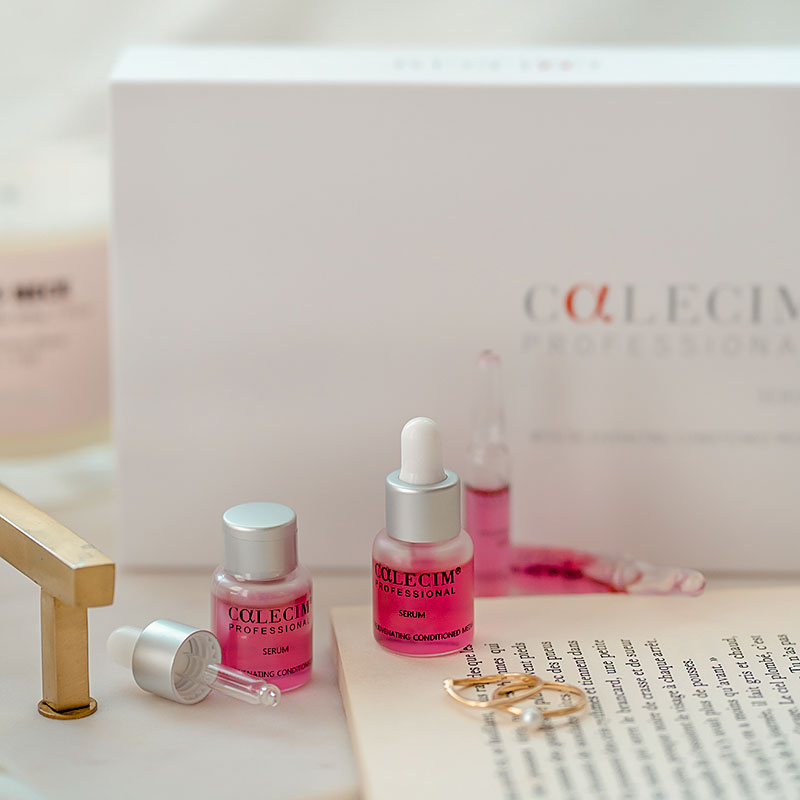 Stem Cell Skincare: Calecim Professional Serum Review
While I don't believe good skincare needs to be expensive, sometimes paying a premium for breakthrough ingredients and technology may be worth it. I've talked about growth factors as one such ingredient, and personally had great results with certain brands. This goes to show the importance of quality R&D on an ingredient's efficacy.
The Calecim Professional Serum not only contains growth factors but multiple proteins from stem cells to rejuvenate the skin. Let's see if it lives up to the high price!
Overview
What is it
Highest concentration of stem cell derived growth factors and proteins, anti-inflammatory factors, cytokines and anti-rejection factors that are physiologically balanced to help activate tissue renewal, reduce procedure downtime and discomfort, and optimizes aesthetic results.
Best suited for
Mature skin types (30+ folks), those with acne scarring, eczema, inflammation, or just had laser treatment and would like to help with wound healing.
Things to note
None, contains only conditioned media from ethically sourced umbilical cord lining stem cells.
Packaging
5ml serums come in individually sealed packets for maximum freshness. The cap must be removed and replaced with the pipette cap before use. There's also 1.5ml serums that are available as gifts with purchase during promos, and these come as single-use glass ampoules that must be snapped open each time.
Scent
Contains no artificial fragrance, but it naturally has a yeast-like scent. Dissipates after application. 
Texture
Feels like water with a hint of slip. The color should be pink which means the product is at the correct pH level.
Finish
Natural finish with no shine or stickiness.
Available For
$100 for single 5ml on Calecim Official Site (15% off with code JENNY). You can save more by buying multiple and subscribing: 2 for $170 or 5 for $420, extra 20% if you setup auto-replenish.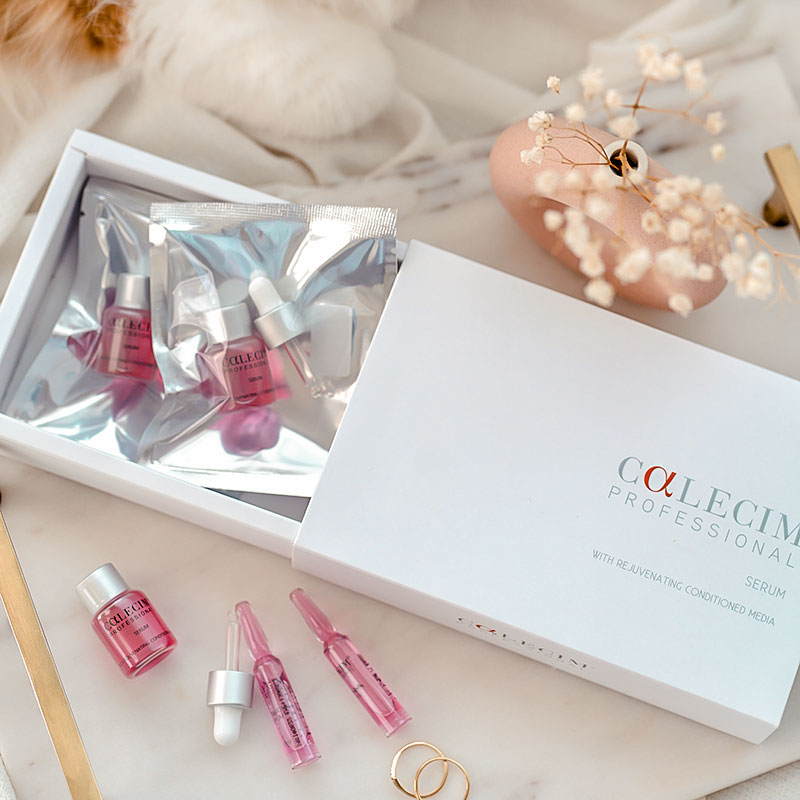 Calecim Serum Ingredients
Aqua, Hyaluronic Acid, Glycoproteins, 1,2-Hexanediol, Soluble Collagen, Albumin, Fibronectin
You'll notice that "stem cells" aren't listed in the ingredients, and that's because it's the active ingredients derived from stem cells (cord lining stem cells to be exact) that work their magic. Calecim's parent company CellResearchCorp has been researching the application of stem cells in topical skincare for over 10 years and have developed their signature CALECIM® Rejuvenating Conditioned Media which includes the following: 
Hyaluronic Acid – a wonderful humectant that's naturally found in our skin.
Glycoproteins – A type of peptide that's also a natural part of our skin. It works with other ingredients like hyaluronic acid to reinforce our skin's barrier and keep it smooth and healthy1. They also act as growth factor reservoirs, which are then released after proteolysis, or the breakdown of the protein4. Growth factors then trigger a cell signaling cascade that stimulates cell growth and repair!
Collagen – While this ingredient won't directly add to the collagen levels in our skin, it does work as an excellent humectant to keep the skin hydrated.
Albumin – A protein also found in egg whites and a film former, which can make your skin feel tight2. It's actually a pretty important protein in our body performing many critical functions, but from a skincare perspective the benefits are limited.
Fibronectin – A protein that's found to help with wound healing when applied topically on the skin3. There's also some evidence that together with growth factors the effects on skin healing are enhanced.5
Stem cell sourcing
So no, you're not getting actual umbilical cord bits in your serum. And no, these ingredients aren't derived from human umbilical cords either, but from red deer ethically and organically raised in a New Zealand farm. Umbilical cords provide the richest source of stem cells and are the least invasive as they can be collected naturally during birth, unlike bone marrow or fat tissue stem cells which can be incredibly painful for the animal to extract. The use of deer is to prevent the transmission of any diseases from the animal back to us (so no pigs or cows).
Calecim has sourced one umbilical cord from these deer (during a natural birth, where it'd be tossed as waste by the vets otherwise), and from this one cord there are 12 billion stem cells, which are then put into a solution to release the ingredients above. And they've been using this same cord since they started selling their product, talk about sustainability! 
This serum can be used from twice a day as an intensive treatment before major events to just once a week as a skin booster to help the bottle last longer. 

Use immediately after cleansing and drying your skin. A water-based exfoliating toner may be used before to enhance product absorption. The skin should be oil-free before applying the serum.
Draw up one full pipette and gently press the product into your skin. I like to warm my hands before as the heat can also help with product absorption.
Follow with the rest of your routine (toner, serum, moisturizer, etc).
Notes
You can also use an at-home micro-needling device beforehand to help increase product absorption.
Usage Experience & Results
✅ Easy to incorporate into any routine
No matter your skin type or current routine, the Calecim Professional Serum will fit right in thanks to its elegant texture and simple ingredients. Other EGF serums tend to be thicker and contain extra moisturizing, which can make layering difficult or even lead to pilling.
Since this serum has minimal ingredients in a water-based solution, there's no concern of ingredients or textures clashing. And because you only need the tiniest bit (I mean look at the tiny dropper) to see results, feeling wise it's like you didn't apply anything at all.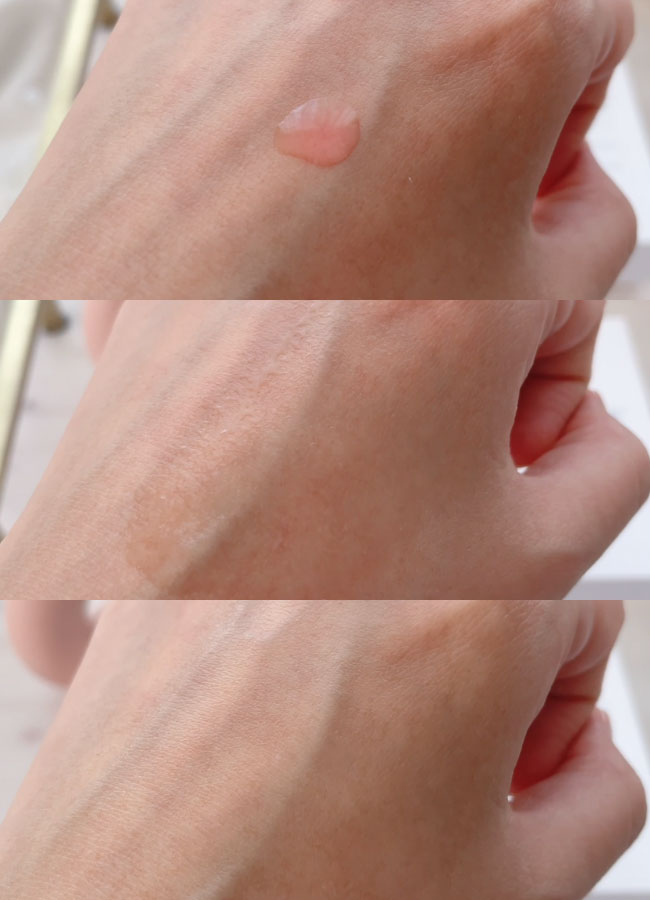 ✅ Noticeable results after 1-2 bottles
Given the price per bottle, I'd be offended if I saw no results. But immediately my skin feels smoother after one application, and after about 1.5 bottles, I noticed overall skin health improvements such as less noticeable fine lines + pores and a brighter, more even complexion.
Keep in mind this is used together with my usual vitamin c in the am + retinol in the pm. As promising as stem cells and growth factors sound, it's still important to have your skincare routine based on well-researched and time proven ingredients. Think of the Calecim Professional Serum as the (very delicious) icing on the cake that takes your routine to the next level.
✅ Perfect for vacations, before big events, or post facial treatments
I brought a bottle with me to Greece and it lasted me an entire week while taking up almost no space in my makeup bag. It also helped keep my skin in top condition despite jet lags and lots, LOTS of sun (and heat and alcohol and sugar and all sorts of not-so-good things). Since you see results quickly with the Calecim Serum, they're also perfect for prepping your skin before special occasions – eg. a wedding!
While I haven't personally tested using this after in-clinic treatments (ie. lasers or micro-needling), Calecim has worked with doctors to conduct clinical trials on its efficacy in reducing redness and speeding up the healing process, and the results are extremely promising.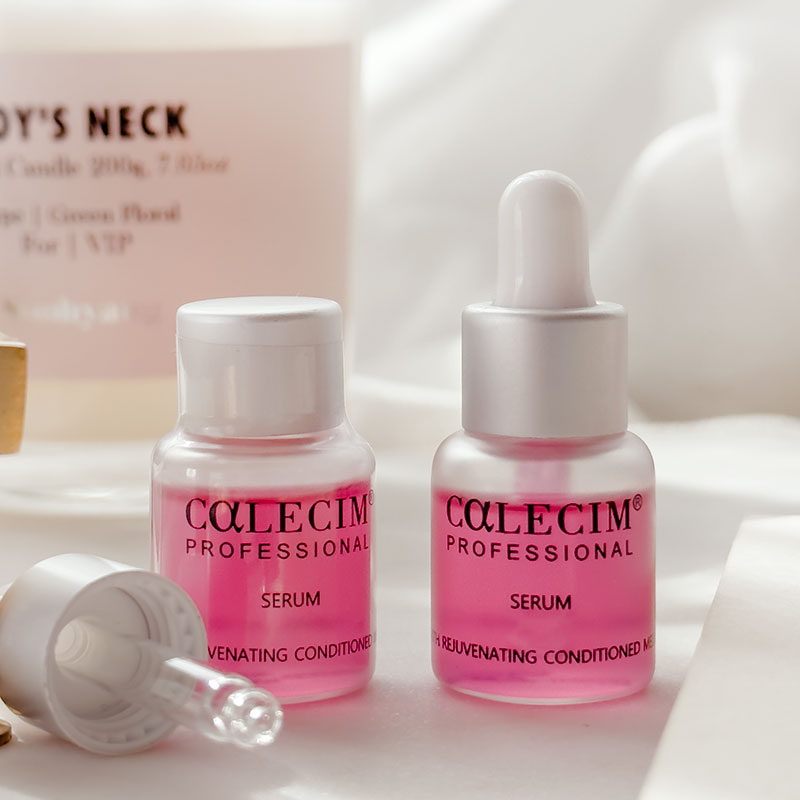 ❌ Hard to justify regular use given the price
Even though I was fortunate enough to receive these for review, I'll be honest and admit the price blew my mind, and not in a good way. I understand the R&D behind the ingredient is a reason for the high cost, but at the same time, it's just not something the average person can afford.
For most of us with a budget, this or any expensive EGF skincare are definitely not must haves. You can still see great results with affordable, tried-and-true ingredients!
What Others Say
I had serious eczema symptoms from the withdrawal of using topical steroid creams. The folds of my arms, backs of my knees even my eyelids and face swollen red and raw. the Calecim serum has basically turned my skin back to normal ….in only 4 days of use.
The stem cell serum and multi-action cream are very soothing, especially after having laser treatments, they seem to accelerate the healing process. The only reason I give them 4 stars instead of 5 is because of the high cost
Best serum ever! It absorbs really fast into my skin and leaves no sticky sensation. I love applying it after a deep cleanse at night and I wake up with glowing and rejuvenated skin.
Calecim Professional Serum Compared
Klairs Midnight Blue Youth Activating Drops
An affordable alternative for daily use, the Klairs features 95% EFG + and also comes in a water-like formula that's easy to add to any routine. At 1/10 of the price don't expect the same results though. It won't have the same post-facial healing effect and it took me finishing an entire bottle of the Klairs and taking a break to notice a slight difference. But with continued usage you can get 80% similar improvements overtime.
SkinMedica TNS+ Advanced Serum
Also expensive, but still 1/2 of Calecim if you consider the price per ml. This has a typical serum texture and while I have no issues layering this in my dry skin routine, it definitely feels more substantial. I started noticing a difference about halfway through the bottle. It has an amazing blend of anti-aging ingredients, but they do source their growth factors from cells from the neonatal foreskin.
Babor Active Night Ampoules
Different ingredients but similar claims of rejuvenating the skin using a high concentration of active ingredients. Except these Babor ampoules were total flops. Maybe their other ampoules are better but if you're spending your money, I'd rather you spend $100 on something that actually works than $40 on something that doesn't.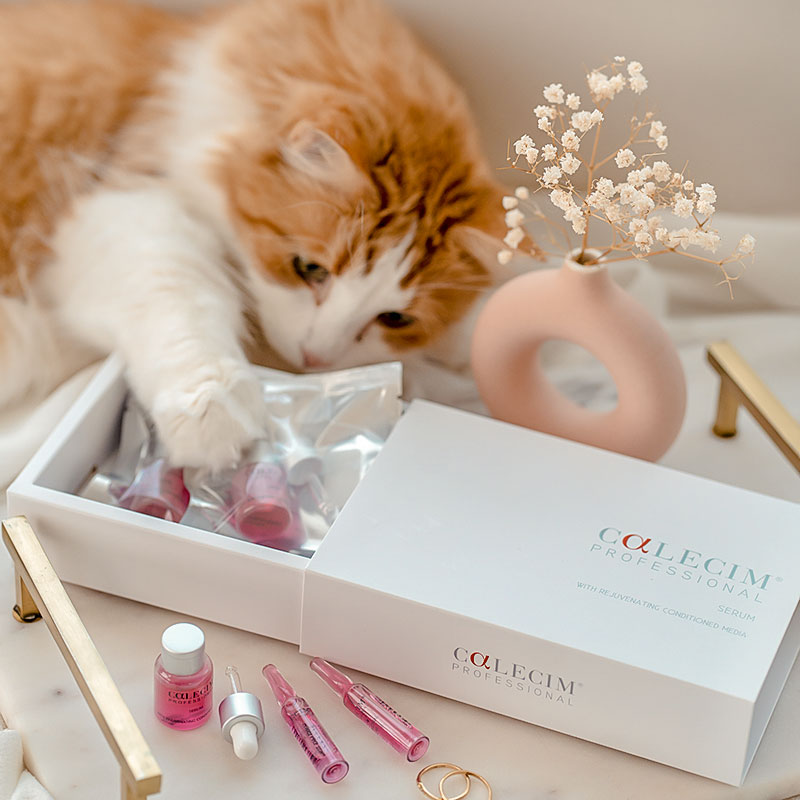 Final Verdict
Ingredients
Packaging
Texture/Application
Performance
Price
It's rare to see a product with such quick results, so I'm definitely impressed. I also appreciate how transparent they are about their stem cell source and their effort to ethically and sustainably acquire the ingredients.
BUT, I'm also all about practicality, and as much as I loved the results, I think there are better options for your money for everyday use. Now if you're planning to get laser treatment or if you just want to pamper your skin before a big event and have the budget, try a few bottles and get ready to be impressed.
Article Sources
To keep my content accurate and trustworthy, I rely on peer-reviewed studies, articles from reputable academic institutions, and quotes from certified healthcare professionals to back my claims. No woo-woo clickbait nonsense here!