Sesame Ginger Bok Choy Recipe
Do you need a new vegetable side to pair with your meals?
Recipe by Spend with Pennies
Add full flavour to any meal with this spicy and flavorful side dish. Bok choy is an incredibly versatile side dish that's easy to pair with most dishes This bok choy recipe is very easy to cook while packing in flavour from a soy and sesame sauce blend, chilli flakes, garlic and ginger. If you've never cooked with bok choy, now is the time! It's an easy-to-find, cabbage-like veggie common in Asian cuisine.
Makes 4 Servings 
What You Need
Sesame Ginger Bok Choy

 Recipe

I

ngredients:
1 tablespoon vegetable oil

 

2 cloves garlic, minced

 

1 teaspoon fresh ginger

 

8 heads baby bok choy

 

1 teaspoon sesame oil

 

1 tablespoon soy sauce

 

1 tablespoon water

 

¼ teaspoon chili flakes

 

sesame seeds for garnish

 
How to Make the

Sesame Ginger Bok Choy Recipe
Combine sesame oil, soy sauce, water and chili flakes in a small bowl. Set aside.

 

Heat the oil in a large skillet and cook the garlic and ginger until fragrant, 1 to 2 minutes.

 

Mix in the whites of the bok choy and cook 3-4 minutes. Add soy sauce mixture and leaves and cook 2 minutes more or until heated through and leaves are gently wilted.

 

Sprinkle with sesame seeds and serve.

 
Nutrients per serving
96 Calories 
9 g Carbohydrates
4 g Protein
5.8 g Fat
2.4 g Fibre 
Don't miss out on healthy new recipes or nutrition articles and sign up for our newsletter, today! 
Sound Bites is a weekly nutrition newsletter that goes out to thousands of subscribers. Written by our team of registered dietitians and nutrition experts, it includes articles, videos, tips and recipes.
As a special BONUS, we'll email you our popular '51 Healthy Snack Attacks' PDF.
Looking for more healthy eating tips and recipe ideas? Check out these articles below!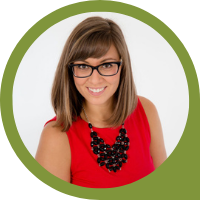 Shauna Kime
Registered Dietitian & Online Nutritionist – Weight Concerns, Women's Health, Diabetes & Meal Planning
The first thing you will notice about Shauna is her contagious optimism, energetic personality and zest. Shauna loves teaching and has a heart full of compassion and empathy for helping clients work through health concerns. Shauna specializes in healthy cooking, diabetes, cardiovascular health, weight concerns and womens health. Read more