5 Must-Have Products This Month
This post is sponsored by BabbleBoxx.
Part of my job as a dietitian is to find food combos that are nutritionally dense AND taste delicious. I would never expect my clients to eat foods that they don't enjoy. What's the fun in that? So, I figured I should share the wealth with all of you when I discover incredible snack and meal combinations, courtesy of BabbleBoxx! From your new stir-fry best friend to elevated hazelnut spreads, I hope you all enjoy my must-have products of this month.
Must Have #1: Coconut Secret Organic Coconut Aminos:
In case you've missed the craze around coconut aminos, this is your sign to invest in the soy-free, lower-sodium soy sauce replacement. With 72% less sodium than soy sauce, it's incredible that this product can be used as a 1:1 replacement for soy sauce, while still keeping the integrity of that savory, slightly sweetness we all love. I put the coconut aminos on rice and tofu with veggies for dinner this week. Let me tell you, it was quick, easy, and delish.
Must Have #2: Mighty Sesame Tahini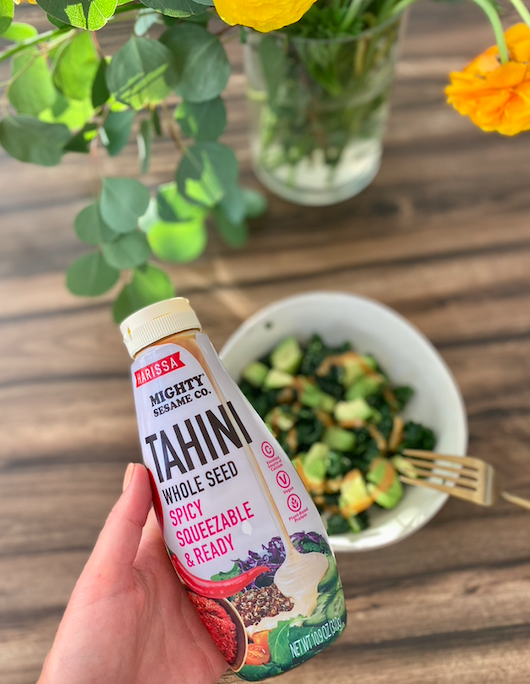 Tahini is one of my top choices for a protein-packed salad dressing. Hence why I am obsessed with this one! I am a sucker for convenience and with the squeeze bottle – I don't have to worry about spooning from a jar or stirring constantly for that perfect tahini texture. I whipped up a salad to toss my tahini on top but it also makes an easy hummus and sandwich enhancer. This product is rich in Calcium, Iron, Magnesium, Potassium, Selenium, and Fiber to name a few nutrient favorites!
Must Have #3: Minute Basmati Rice Cups: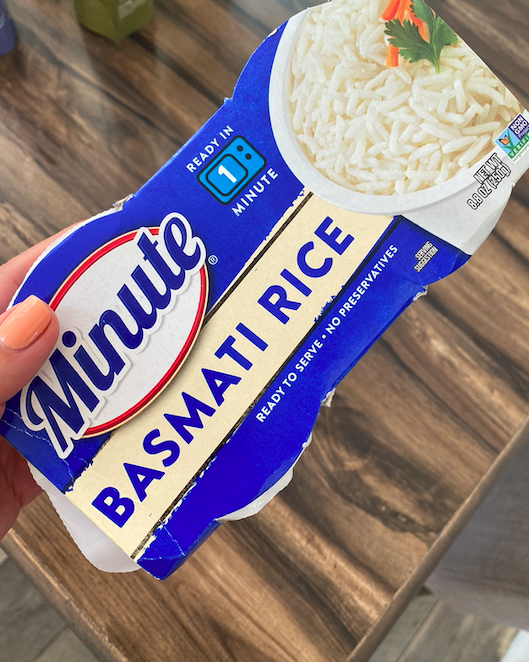 Even dietitians get too lazy to spend more than 10 mins on dinner! These rice cups are ready in just one minute and come in perfectly portioned sizes for the kind of convenience we all deserve in our busy days. I'm sure it comes as no surprise that I used these rice cups in my quick and easy stir fry bowl along with my new coconut aminos! These cups are also BPA-free and 100% recyclable.
Must Have #4: Nutiva Hazelnut Spread: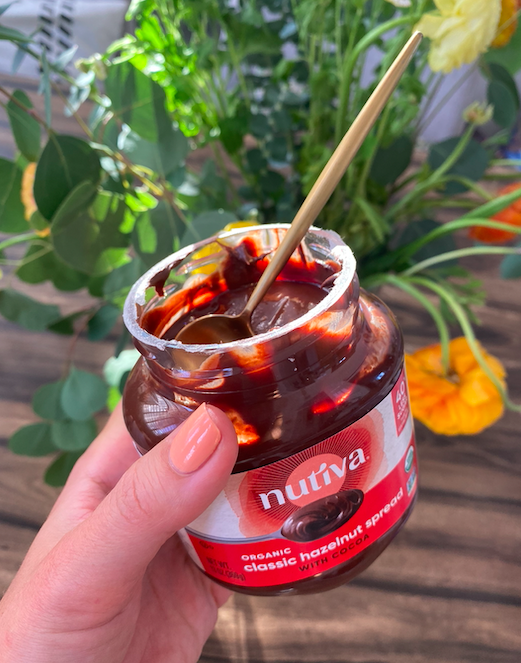 Vegan nutella? Count me in! With 40% less sugar than the leading brand, I was thrilled that the taste is just as good as the ingredients. I promise it's not too good to be true. I put a generous amount of this spread on a piece of toast and can confirm that the classic hazelnut flavor is enough to make me grab another piece of toast and do it again! New go-to? Certified Organic and Non-GMO spreads are the way to go my friends!
Must Have #5: Recipe 33 Infused Almonds:
This product elevates a classic favorite of mine: almonds! Consider these your affordable, high-caliber almond snack. Made with real ingredients and bursting with flavor, I definitely brought my charcuterie board game up a notch with these. My fave flavor had to be the lemon rosemary with lemon wedges and sprigs of rosemary (can't you just smell that combo?!). AND I've got a promo code for you guys on this one: TryRECIPE33 to save $2.00 on any 4oz bag.
Tell me which of these you'd like to try first (or maybe ALL?!) in the comments below!